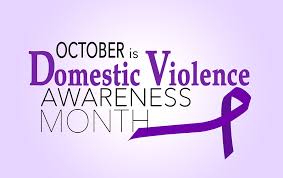 October is Domestic Violence Awareness Month (DVAM).
Domestic violence is a serious violent crime that includes both physical and emotional abuse. It is frequently hidden from public view. Many victims suffer in silence, afraid to seek help or not knowing where to turn. The traumatic effects of domestic violence also extend beyond the abused person, impacting family members and communities. Children often witness the violence or become victims themselves. Stalking is a common and very dangerous tactic used by perpetrators of domestic violence, and can pose challenges for victims seeking help.
No person should be subjected to the fear, shame, and humiliation that an abusive relationship produces, and leaving these relationships is not easy.
This National Domestic Violence Awareness Month let us take the time to educate ourselves about how to support friends or family members who are fighting to free themselves from abuse and unite to give a voice to those who suffer in silence.
Marrying a U.S. citizen doesn't mean that you subject to whatever type of treatment they inflict on you.
Remember, you both went into the marriage as equals and hopefully for love.
Domestic abuse can happen in any type of relationship.
Whether you met your spouse in high school or online, there isn't a guarantee that you will have a positive healthy marriage.
Sometimes people in abusive relationships can't see the actual abuse taking place. You might be wondering how that is possible.
There are many forms of abuse that some feel is part of a normal relationship – of course, this is incorrect.
Now, I will say this: without documented evidence of the abuse it will be extremely difficult to win a VAWA case.
There are some dishonest scammers out there that know the system and will file for VAWA for the purpose of getting a green card without their spouse.
USCIS understands that this happens and has put into place criteria that everyone filing for VAWA will need to meet.
Physical Abuse
Scratching, punching, biting, strangling or kicking.
Throwing something at you such as a phone, book, or shoe.
Pulling your hair.
Pushing or pulling you.
Grabbing your clothing.
Using a gun, knife, box cutter, bat, mace or other weapons.
Smacking your bottom without your permission or consent.
Forcing you to have sex or perform a sexual act.
Grabbing your face to make you look at them.
Grabbing you to prevent you from leaving.
Forcing you to go somewhere.
Emotional/Verbal Abuse
Calling you names and putting you down.
Yelling and screaming at you.
Intentionally embarrassing you in public.
Preventing you from seeing or talking with friends and family.
Telling you what to do and wear.
Damaging your property when they're angry.
Using online communities or cell phones to control, intimidate or humiliate you.
Blaming your actions for their abusive or unhealthy behavior.
Accusing you of cheating and often being jealous of your outside relationships.
Stalking you.
Threatening to call ICE on you (deportation)
Threatening to commit suicide to keep you from breaking up with them.
Threatening to harm you, your pet or people you care about.
Using gaslighting techniques to confuse or manipulate you.
Making you feel guilty or immature when you don't consent to sexual activity.
Threatening to expose your secrets such as your sexual orientation or immigration status.
Threatening to have your children taken away.
Sexual Abuse
Unwanted kissing or touching.
Unwanted rough or violent sexual activity.
Rape or attempted rape.
Refusing to use condoms or restricting your access to birth control.
Threatening you into unwanted sexual activity.
Forcing you to have sex or perform sexual acts.
Using sexual insults toward you.
Financial Abuse
Giving you an allowance and closely watching what you buy.
Placing your paycheck in their account and denying you access to it.
Keeping you from seeing shared bank accounts or records.
Forbidding you to work or limiting the hours you do.
Preventing you from going to work by taking your car or keys.
Getting you fired by harassing you, your employer or coworkers on the job.
Hiding or stealing your student financial aid check or outside financial support.
Using your social security number to obtain credit without your permission.
Using your child's social security number to claim an income tax refund without your permission.
Maxing out your credit cards without your permission.
Refusing to give you money, food, rent, medicine or clothing.
Using funds from your joint savings account without your knowledge.
Spending money on themselves but not allowing you to do the same.
Using their money to hold power over you.
No matter what the circumstances are, you need to know: if you have ever been abused, you are protected and the state offers you this protection.
We represent clients from all 50 states!
Call us at ‭410-978-7007‬ or send email at ai@iorgalaw.com, Please schedule your consultation in advance.
Iorga Law Group – immigration law firm is available by phone during regular working hours.
We speak Romanian , Russian, English, Spanish.